The Busch 45 project
Cameras are built to take pictures. Some of them can do their job during their life time under perfect circumstances in well-equipped photograph studios, others had to do their work under rude treatment in the streets or on the battlefield. Very often the cosmetic condition of the camera gives you an idea of its story. As a collector, I like the brand new cameras, coming strait from the factory right in the drawer of the purchaser and not coming out of it, until the estate.

On the other hand, I love the cameras that have had a rude but rich life as a professional Press Camera. Without scruple the camera shows its tears in the leather, its dents in the body, or other marks, proving that it had a rough time. No doubt this camera deserves a nice spot in the collection. Knowing all about the former owner -photographer- and its professional career is even better of course.

But sometimes the camera is totally worn and not even useable any more, to take pictures. After all, it is up to you to decide whether you are going to ad the camera to your collection in the condition as it is, or try to restore the camera and give it back its functions without trying to reconstruct the camera as if it would come strait from the factory. You might, just as I did, try to repair shutter, range and view finder, distance scale adjustment drop bed function, tilt and shift from the lens board and all the other necessary mechanisms, resisting the temptation to repaint the body and replacing the missing leather pieces.

In this particular project, I repaired or cleaned all the technical failures and that included the viewing hood. Because I think the viewing hood is not only cosmetic, but essential important to take pictures, I decided to replace it by manufacturing one by myself.

How to manufacture your new Busch Viewing Hood can be found on the next page.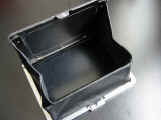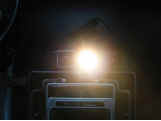 Next Page making a Viewing Hood
---
Restoring Busch Advertisement Busch Model D Pressman Pressman Model D Features.
The Busch 45 project Manual Vue Focus Rangefinder The viewing hood workout