BUSCH MODEL D
Busch Precision Camera Corporation Chicago 7
Press-CAMERAS
"Busch builds the World's finest Press Cameras"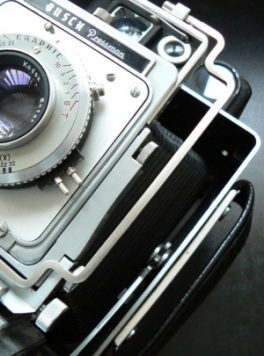 Pressman Model D Features.
The Busch Pressman Model D is a 4x5 inch press camera manufactured by Busch Precision Camera Corporation of Chicago Illinois, during the 50's and 60's.
Looking at the camera, it is obvious that this camera was intended to be an improvement over the Graflex Speed Graphic and Crown Graphic cameras, used by most press photographers at that time. The Busch camera house was made of metal, compared to the Speed Graphic, which was made out of wood. Apart from that, the Busch was equipped with a revolving back.
The following are some of the features:
Due to the light and all metal body, the Busch Pressman 4x5 combines studio and hand camera advantages and features .
Uses 4x5-inch films that make big, sharp prints and enlargements.
Revolving-back allows taking vertical or horizontal pictures without removing the camera off the tripod.
Normally the Busch is equipped with a Rapax Shutter and Wollensak lens.
This particular Busch has a Graphic Shutter and 135 / f :4,7 Optar
Diaphragm stops down to f:32.
Shutter—Graphex Synchromatic synchronized for all speeds from 1 sec to 1/400 sec. plus time and bulb.
Shutter is synchronized for use with strobe light and for standard flash bulbs.
Close Up Photography with the double extension bellows.
Removable lens board.
Lens Movements. Rearward tilt and drop bed:
Mount rises, tilts (forward and backward, and moves sideways . . . locks in place.
Rising front for use when photographing tall buildings where distortion may be a problem.
Lateral and sliding movement for use when you want to include objects on either side of composition without
disturbing set of tripod.
Ideal features for close-up photography, architecture and portraiture.
Build in coupled range finder for fast needle sharp focusing from 3 1/3 feet to infinity.
Night focusing by the Vue Focus
Flip Back infinity stops. To by pass them with the lens board.
Ground glass screen. Ground glass back makes careful focusing easy .
Focusing scale with cursor in small magnifier to focus to the desired feet distance.
Pop-up metal sports finder can be put in proper position by lifting forward and upward and can be used with vertical or horizontal position of the revolving back.
Revolving back is easily turned to change shooting position. You can take vertical and horizontal pictures without taking the camera off the tripod.
Sturdy aluminum body covered with black genuine leather.
Adjustable hand strap.
---
Restoring Busch Advertisement Busch Model D Pressman Pressman Model D Features.
The Busch 45 project Manual Vue Focus Rangefinder The viewing hood workout