The birth of a Lensboard
by Jo Lommen.
It all started with
the search for the image circle of the 7" Kodak Aero Ektar.
The easiest way is to do that is to go into a dimmed room with a window, take your Aero in the hand, point it to the window and ask your assistant to hold the sheet of paper some 20 to 30 centimetres behind you. By moving the Aero until the image is sharp on the sheet of paper, your assistant has one hand free to take the ruler and measure the circle. By using a 30x30 cm cardboard with the Aero in the centre, the image would even be better.
But of course this can be done better and with more accurateness. One of my colleague web site "4x5 camera" publishers John de Vries was curious to know how big the image circle would be of a Kodak 7" Aero lens, by using his huge Wisner camera, assuming that the Aero image circle would fit on the ground glass of the 8 x 10 camera. To do that experiment, he needed a lens board to hold the heavy Aero lens and emailed the photo below with the necessary measures of the Wisner's camera standard.
Please join me on the way to realize a research which turned out to be a very good idea for further creative photographic.
Wisner light trapped lens standard.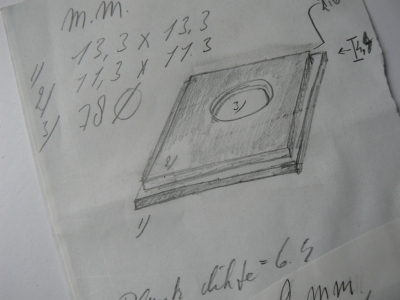 Design n & Drawing Selection of wood
Sawing & Milling backside to fit the standard light trap. Front site waiting for 78 mm lens hole
First fitting General rehearsal
Special tools for making the aluminium lensboard
needed for extra strength and support on the backside of the lens board
To prevent internal reflections the backside has to be painted flat black.
The aluminium lens board gives extra strength.
The lensboard need to be varnished in several layers to let it shine like the first violin in the orchestra.
Photos © Jo Lommen
it all ends up in a
rediscovery of the second life of the Kodak Aero 7 " lens.
Or:
The dramatic metamorphosis from a former war machine into a classic "work of art".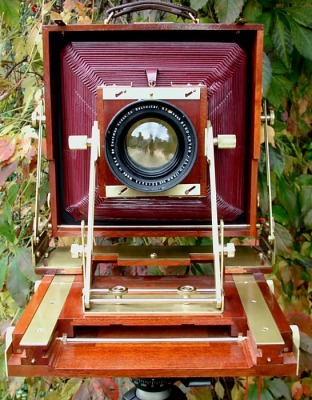 Photo by John De Vries.
The result of John's search for the usable COGD (Circle of good definition) is 16cm square (7.8").

---
Photos © Jo Lommen