Do it yourself.
How to manufacture a genuine leather camera strap.

You are lucky if your Graflex camera has been equipped with a nice leather strap holder which enables you to carry the camera safely around and what's more, to hold the camera steady while working hand hold. The finest position is to slip the hand underneath the strap handle with the fingers curving around the edge of the camera. The handle has been designed to custom fit your hand by choosing the right length with the buckle that can easily be adjusted. An ideal blend of performance, style and durability, leather straps are made from the thickest and firmest parts of the hide. Straps crafted out of leather have wide usage and is preferred by the photographers as its fibers are thick and of maximum durability. Leather straps are fully adjustable. Leather straps are quite stiff when new, but within a short amount of time with use, it becomes supple and soft without losing its form or strength.

Missing such a strap holder or if your strap holder is worn, or no longer reliable due to years of heavy use, is a great discomfort. You may try to find a secondhand one on eBay, but they are hard to find and at least 50 years old and thus not always reliable. Imagine you would drop your precious camera due to a brittle strap holder...
Now there are two options to renew the strap holder.
The fist option is to purchase a brand new JoLo genuine leather strap holder which is made out of finest saddle leather and the best quality nickel buckle, ready for years and years of heavy duty. By clicking here you will be redirected to the order-form and get yourself a new new strap holder within a week.
The second option is to manufacture one by "do it yourself".
Here are some tips how to do it.
Our strap-holder which we are going to manufacture, consist out of a leather strap or belt, a centre bar buckle and two belt keepers.
Centre bar bucle.
Using a centre bar buckle has the advantage that you wont need an extra integrated belt keeper such as you would need with a heel bar buckle.
The strap holder can easily be adjusted by choosing the next hole in the strap.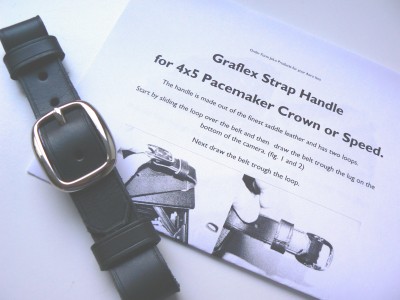 You will need some specific materials and supplies
1) Belt of black saddle leather with a length of 21 inch (51 cm). Width1inch 25 mm). Leather thickness 1/16 inch (2,75 mm)
2) For the strap itself we'll need 17 ½ inch or 45 cm. The rest 3,35 inch or 8,5 cm, we will need later to make the two belt keepers.
3) 1 inch Centre Bar Buckle (see photo). Make sure the centre bar of the buckle is at least as wide as the width of the belt.
The Tools
a) Two pair of rivets and a rivet setter.
b) Glue clamps.
c) Bone folder.
From left to right:
Edge tool, adjustable leather groover, nylon bone folder, clamp. On top the rivets and rivet setter.
Photo on the right:
Close up of the edge tool and groover.
Further more we will need some tools to make it look like a professional design.
For the leather piping we need an adjustable leather groover tool.
An edge tool to finish the sides of the leather strap. Such an edge tool easily bevels and rounds off edges of straps and all soft leather.
To finish the edge use the bone folder for making slicks.
A point strap end punch will cut a clean tip on straps. You might as well do that using a coin and a Stanley knife.
Further more a Super Skiver to thin the leather ends for making the belt keepers.
Last but not least a revolving leather punch.
for more strap holders for the older reflex cameras klick here
---