document.write("Last Modified " + document.lastModified) // -->
Graflex Reflex Cameras
Broken Strap Nightmare.
by Jo Lommen
Almost every vintage Graflex reflex camera shows some signs of wear due to its age,
but a broken or missing hand strap is the most eye catching
and reduces the value of your camera dramatically.
Buying a new one is the only option.
The above photos were copied from eBay listings.
Replace
Broken Carrying Straps
and increase the value of your camera.

Looking for a nice and usable classic camera such as a Graflex Series B or Series D or Super D or the 1912-1927 Top Handle Speed Graphic or perhaps an Auto Graflex or Graflex Home Camera? All these cameras are reflex cameras designed and manufactured far before World War II. All these Graflex cameras were remarkable well made wooden cameras equipped with the famous 5 slit focal plane shutter. The mirror box serves as a light lock to allow winding the shutter with pulled dark slide without fogging the film. All of them are equipped with a nice hinged solid top cover attached with a coupled viewing hood. In closed and locked position the top cover serves as carrying assembly for the heavy camera. In open position it serves as a support for the collapsible viewing hood when erected for focusing.

We all know the disappointment seeing your favourite camera passing by on eBay or else where on line. The scratched leatherette and very often a missing a hand strap keeps us away from buying such an interesting classic camera. While the leatherette can be upgraded by a good treatment with leather wax, missing leather brackets and or a broken strap cannot be replaced by a piece of rope or a worn leather waist belt. In other words it would be cosmetically almost unacceptable to display such a poor restored camera in your collection or take the camera out for a photographic job. Broken brackets would make it even impossible to create a working alternative. Some of these camera types were originally equipped with metal brackets and some of them with leather ones. Both were attached to the camera top cover by rivets. Unfortunately these rivets are very hard to find and difficult to mount, reason why I prefer the leather loops and steel brackets to be mounted by using nice looking screws. They very closely resemble the original appearance. The new replacement hand strap should be reliable, and made out of two layers of saddle leather which should be nicely stitched together like the original one. Only when made like this, it would be a guarantee to hold for many more decades. Each camera size whether it is a 3 1/4 x 4 1/4 inch or the larger formats 4x5 inch and 5 x 7 inch, has it own type of strap, differing in size and shape.
New Personalised Hand Strap

Making such a new strap demands using the right skills and knowledge of the leather material and the art of stitching.
This, plus the maker's knowledge of all the different Graflex camera types will guarantee the right choice if you would intend to restore your camera. During the corona lockdown I managed to learn working with hand stitching leather techniques which ended up in very nice results. Experiments with different leather qualities, the use of several needles and threads produced the best fitting and nearly original hand strap for your camera.
If you would be interested in such a strap, please let me know your camera type and size. Photos of your camera would be more than welcome to give me the right information about camera type and condition.
On the left a 4x5 Series D equipped with my new hand strap. The strap has been made using the two needle stitching method. See photo on the right side. The 2 needle stitching is much more reliable than the single needle stitch and looks much better. Even the colour of the stitched thread can be chosen: White or black.

Below a 5x7 inch Graflex Home Camera.
Note the odd front attachment of this strap handle which differs from the usual brackets support.
Special handcrafted from the original hand strap of the 5x7 inch Auto Graflex.


Next photos show you different strap holders and some of my cameras equipped with new original, handsome and reliable leather carrying straps.
Carrying straps can be mounted to the camera using screws or rivets.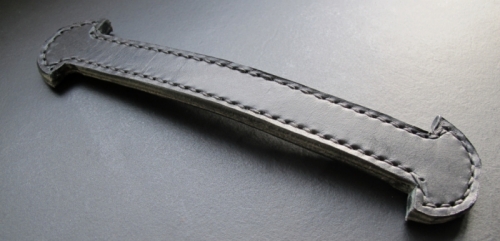 If you would be interested in such a new hand made personalised strap holder, please contact me by using my
Ask for more info prices and order
Home to Jo Lommen Classic cameras
Graflex Technical Pages