Brief instruction
How to get started with the Speed & The Aero.
This camera is an accurately-made photographic instrument. Treat it as such and it will return to you long years of useful service. An instrument should never be forced. Follow these instructions the first time you- inspect this camera. See how little force is required to loosen, tighten and move, the various controls, and never exceed this force.
Unpack the camera carefully.
When unpacked, put the Speed Graphic on a tripod and make sure the tripod stands solid as a rock.
Even better would be to lay the camera with the back on the table. Remove the Graflok back to avoid breaking the ground glass while working on the camera.
Open the camera by pushing the hidden knob on the left (seen from the back of the camera) side of the camera next to the top of the handle strap. The drop bed opens. (Fig 2) Now pull the bed down until the bed braces snaps into locked position. (Fig 3)
Note: on some newer cameras you'll find the hidden knob on top of the housing.
Once the camera is open and the bed in locked position, you can see the standard with the shutter and lens. Beneath the lens there is the standard lock. The standard lock is in locked position if it is positioned left or right. Swing the standard lock straight and pull the standard forward against both of the infinity stops. Lock the standard by turning the lock to the right or to the left while firmly holding it in position to the infinity stops.
Remove the lens by sliding the upper slide lock to the left and the lower slide lock to the right while holding the lens with your other hand. Put the lens aside on a safe place.
Now pick up the Aero lens and remove rear and front cover (if mounted). Hold the lens in front of the standard with the JoLo sign in the left upper side of the standard.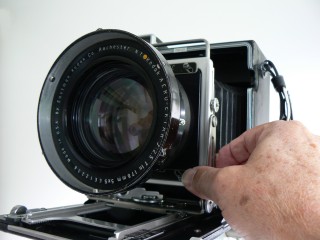 Mount the lens by pushing the black rear lens cell in the black square opening of the lens standard.
Firmly press the lens board against the standard and slide the upper and lower slide locks in closed position.
This should work very smooth without any force.
Now your camera has been mounted with the 7 inch Kodak Aero lens and ready for use.