Burke & James Press Camera
Watson Miniature 2 1/4 x 3 1/4 and 4x 5 inch Press Camera
After 45 years, the house of Burke & James has been supplying the requirements of professional and amateur photographers
It is only natural that this great fund of experience should culminate in their own production of two cameras:
The Burke & James Press and Watson Camera
Chicago U.S.A. 1942
In the 1938 catalogue Annual Clearance lots of Graflex cameras for sale
---
The Burke & James Press Camera
Rising, Falling, Tilting and Shifting Front Adjustment
© Jo Lommen
There is no need to worry about retaining parallels on the negative, merely raise the front to reduce the foreground; it isn't necessary to tilt the camera. It enables the photographer to maintain the camera back in a parallel position to the building or architectural object. There is a full 2-inch rise- enough to give view camera versatility and the front is held perfectly parallel to the back, or tilted at will in a split second by shifting to neat side locks. This wide range of adjustability provides a practical solution to every picture problem such as Architectural Photography, Photographing Interiors, Pictorial Photography, Commercial and Portrait, but for all "Spot News' Press Photography. Press Photography requires speed of handling and a ruggedness and lightweight camera. The introduction of the Burke & James was an answer to all these expectations. Please take a closer look to the operating instructions for the B&J 4 x 5 Press Camera.
Double Extension
14 inch bellows extension is sufficient to give extreme close ups with all normally used focal length lenses.
All Metal Drop Bed
For use with wide angle lenses since the 20 degrees drop bed of the camera does not projects into the field.
Light Body
Made out of aero metal covered with tooled leather
Extreme Side Adjustment of Lens
A shift to either side of full 1 3/4 inches to satisfy the most exacting photographer.
Revolving Back...
not only ends awkward elbow shots but also better composed verticals.
The Burke & James 4 x 5 inch has remarkable flexibility, enough to turn out architectural pictures with perfect perspective.
Industrial, publicity shots, portraits, natural history studies, commercial records, close ups, fashions.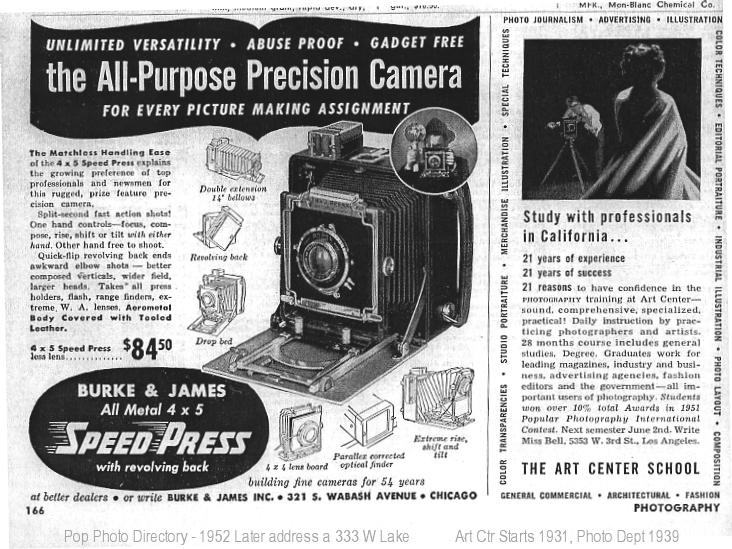 a 1952 Burke & James advertisement
---
Burke & James History Next Page Burke & James page 1